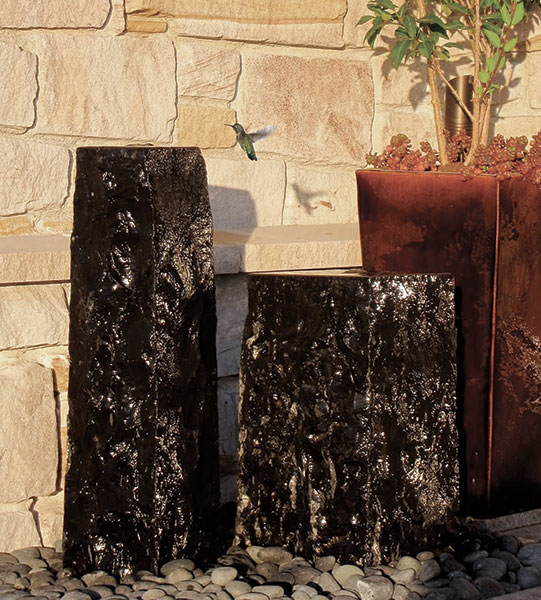 Chiseled Fountains
Basalt – Salt & Pepper Granite
We make these modern looking pieces by hand chiseling granite and basalt columns. Each fountain has been slightly tapered from the bottom up, promoting good water flow, sound and action. Available in Salt & Pepper Granite and Basalt.
Chiseled Basalt and Granite Fountains
If you want to add some unique feature to your garden space and bring the beauty of nature into your home, then choose these wonderful chiseled fountains.
These elegant fountains are hand chiseled to give them a unique and interesting appearance. Their rust look and well crafted shape makes these an interesting addition to any residential or commercial space.
Due to their unconventional look, these can gel beautifully with an elegant and sophisticated setting. You can place these in any corner and see that area transformed into the most attractive part of your home.
These also make an apt choice for placing in offices and commercial buildings.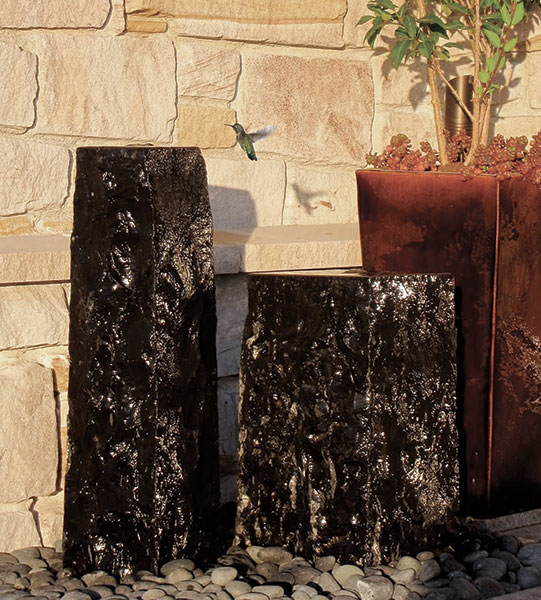 Outdoor Fountains To Enhance Landscaping
You can adorn your home décor with these wonderful chiseled fountains, which will keep adding beauty to your home with their timeless beauty and elegance. The chiseled fountains have a slightly tapered bottom, which is the reason why the water flows so beautifully along its sides, producing a mesmerizing sound, which will transfer you to a whole different world.
Clear water, flowing elegantly on the well crafted sides of these chiseled fountains, promotes a lively ambiance.  Among plenty of reasons why you should get one of these amazing pieces of art installed in your home, the prime one is the promise that it will keep on enduring the complexities of time.
Chiseled fountains, made from basalt which is known for its strong and durable quality, will keep enhancing the beauty of the ambiance for a long time to come.
Whether you wish to place these in your garden, patio, or sun room, these will definitely keep you intrigued for hours with their appealing appearance and therapeutic sound of slowly trickling water.
Adding such an amazing water feature in your house will definitely fill your life with peace and tranquility and help you get rid of the anxieties of modern life.
Granite Fountains for Your Yard and Garden
Coverall Stone, Inc. is your one stop destination for anything that can enhance the appeal and value of your home décor. We offer an extensive and exclusive collection of wonderful fountains to our clients who are looking for something unique and appealing for their homes.
Installing a chiseled fountain in your garden is an investment that you can proudly flaunt and keep enjoying its beauty and charm for many years. It will never lose its appeal; instead, the natural elegance of these chiseled fountains will only get augmented with time.
Take a look at our exclusive range of chiseled fountains by visiting our warehouse in Seattle or give us a call at (877) 779-9553 and (206) 935-5310 for any assistance.